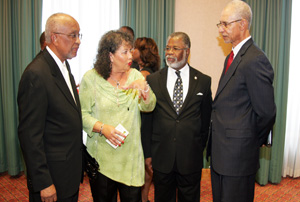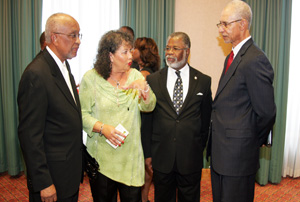 Prime Minister, the Most Hon. Portia Simpson-Miller, has lauded the National Association of Jamaican and Supportive Organizations (NAJASO), for 35 years of outstanding work in the Diaspora on behalf of Jamaica.
In her message, read by Jamaica's Consul General to New York, Herman LaMont, at NAJASO's 35th Anniversary Award Banquet on July 14, at the Adams Mark Hotel in Buffalo, New York, the Prime Minister said "NAJASO's service has facilitated much notable accomplishments, ranging from the channeling of humanitarian assistance to individuals and communities, to the promotion of trade and business opportunities."
She pointed out that NAJASO's objectives over the years have positively impacted thousands of lives across the length and breadth of Jamaica.
The Prime Minister also commended the group for its bold vision to reach out beyond the national scope and embrace non-Jamaican supportive organisations in furthering the cause of Jamaica and its people.
As Jamaica celebrates its 50th year of political independence and reflects on its own achievements and challenges, Mrs. Simpson Miller said she felt a renewed sense of hope and confidence that through the partnership of organisations like NAJASO, "the awesome creativity and national characteristics of our beautiful island will eventually be harnessed for sustained national progress."
In his remarks, NAJASO's President, Roy Davidson, said NAJASO's leadership is committed to encouraging Jamaicans residing in the United States as well as American corporate interest to renew their focus on Jamaica.
"It is important that new opportunities for investment be communicated to the Jamaican public at large and those in the American business sector who have an interest in developing economic partnerships with local players in the Jamaican marketplace," he said.
Mr. Davidson noted that in addition to facilitating trade and investment, NAJASO and its members will focus on education, technology, health, tourism, culture, sports and young professional leadership development in the United States, Bermuda and Jamaica.
Over the past 35 years, NAJASO has funded at least 60 scholarships in higher education at the University of the West Indies, said Mr. Davidson, and the organisation's focus on Early Childhood and Elementary Education continues to be an ongoing project.
Among those receiving awards was the Mayor of Buffalo, who is of Jamaican heritage, Mr. Byron Brown, who got the Lignum Vitae Award. The Group Leader Award went to Ms. Vernette Dyron-Meade; Outreach Award, Ms. Yasmine Facey; and Dr. Charles L. Anderson received the Distinguished Citizen Award.
NAJASO, a non-profit organisation, is the umbrella association of Jamaican and supportive bodies throughout the United States.
By Derrick Scott
Embassy of Jamaica
Washington
— JIS