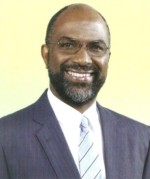 Photo: Mr. Earl Jarrett
NAJASO Outstanding Service Award 2015
The National Association of Jamaican and Supportive Organizations (NAJASO) held its 38th Annual Convention July 16-18, 2015 in Cleveland Ohio, USA. Featured Speakers for the conference were:
Mr. Earl Jarrett, General Manager, Jamaica National Building Society at the Welcome Reception and the Honourable Dr. Fenton Ferguson, Minister of Health, Jamaica at the Dinner & Awards Banquet. The Reception was well attended and the dinner & awards banquet had an attendance of approximately 200. Mr. Jarrett built his discussion around the conferences theme "Building a Sustainable Future" and addressed the audience from the perspective of a "family talk" on economic growth and development for Jamaica.
Minister Ferguson is a Founding Member of NAJASO under the Progressive International Cultural Organization (PICO), where in 1977 he was a student at Howard University in Washington, DC. The Minister spoke of NAJASO's contributions in Health as well as Education, and praised NAJASO for its leadership in supporting Jamaica over the past 38 years. He discussed current and future initiatives to further improve and develop health sectors in the country.
NAJASO also conducted bi-annual elections for its National officers.
AWARD WINNERS
The Hon. Dr. Fenton Ferguson, Minister of Health Jamaica CD, DDS, FICD, MP – LIGNUM VITAE AWARD
The Reverend Dr. Jeremiah B. Pryce, Founding Pastor, Grace Tabernacle Baptist Church – LIFETIME ACHIEVEMENT AWARD
Mr. Earl Jarrett, CD, Hons. LL.D, JP, General Manager, Jamaica National Building Society – OUTSTANDING SERVICE AWARD
Mrs. Beryl Gray, Former NAJASO Vice President, Mid-West Region – OUTREACH SERVICE AWARD
Ms. Margaret Rose Lanam, Administrator/Director Patient Care Services for Angeles Vista Hospice – OUTREACH AWARD