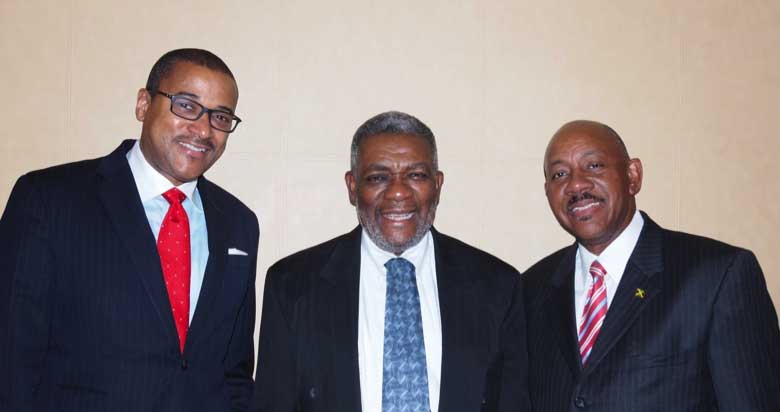 Pictured from L-R: Ambassador Courtenay Rattray, Permanent Representative of Jamaica to the United Nations and recipient of NAJASO's Lignum Vitae Award,. Dr. Richard E. Constable, NAJASO Chairman, Mr. Ricardo Nugent, NAJASO President.
The National Organization of Jamaican Supportive Organizations (NAJASO) held its 37th Annual Convention July 17-19-2014 at the Sheraton Hotel, College Park North, Beltsville, Maryland. Ms. Carol Williams served as Convention Chair , the host Organizations , Jamaican Association of Maryland and Jamaica National Association.
NAJASO is the umbrella organization for Jamaican and Supportive Organizations worldwide and has a long history of supporting and providing humanitarian services (i.e. educational, health) and business development opportunities to West Indian communities in the U.S. and the homeland.
The year 2014 theme was "Transition with a Vision" featured presentations and workshops in Workforce Development, Business, Health, Immigration and Education. The convention's Keynote Speaker for the Banquet and Awards presentation on Saturday evening (July 19th ) was the Honorable Dr. Stephen Vasciannie, Jamaica's Ambassador to the United States.
NAJASO was officially incorporated in 1977 and is the brainchild of then senator and Jamaica's fourth Ambassador to the U.S., Alfred Rattray. Of the five awards presented at the Awards Banquet, NAJASO's Lignum Vitae award went to Jamaica's current Ambassador and Permanent Representative of Jamaica to the United Nations, Courtney Rattray. Ambassador Courtenay Rattray is the nephew of former U.S. Ambassador Alfred Rattray. Other award recipients were: Founder of New York Caribe News, Dr. Karl Rodney and President of the Council of Caribbean Organisations, Leopold Edwards both received the Outreach Service Award; former Jamaican Consul General to New York, Ambassador Dr. Basil Bryan received the National Convention Chairman Award; and former Jamaican Olympian Albert Lawrence received the NAJASO Presidential Award.
Consul General Herman G. LaMont of New York was on hand as the keynote speaker for the Opening ceremony and reception on Thursday, July 17th. He spoke at length about NAJASO's history and the organizations' contributions to Jamaica. He expressed the vision he saw materializing in NAJASO as an organization continuing to transform itself to meet the needs and demands within a changing society and a dynamic and evolving global economy.
On Friday July 18th , the Business Forum kicked off its featured presentation of Workforce Development for the Jamaica Logistics Hub. The moderator was Mr. B. Roy Davidson, Immediate Past President – NAJASO. The presentation was made by, Mr. Mark Milward, (President & CEO Milward & Assoc. Int'l). Mr. Milward who is also an engineer and efficiency expert with the US Navy, is a member of the WISC. He has been working with the Jamaican government in an effort to provide technical and leadership training in workforce and skillset development that adhere to International Standards Organization (ISO) requirements. The Jamaica Logistics Hub initiative is a project that can potentially move the country on a path of a continuous positive economic growth trend. As the Panama Canal begins to accommodate increased cargo flows starting in April 2015, Jamaica is positioning itself to service this increase in goods flowing through the Canal by providing the facilities, logistics transport, material handling, technology and workforce that can handle the increase in traffic. A dramatic increase in job growth and business investment opportunities is currently being realized in Jamaica and much more is anticipated. Many in attendance were hearing details about the Jamaica Logistics Hub initiative for the first time.
The Health Symposium featured a panel discussion on 'Childhood Obesity' and was moderated by Dr. Charles Anderson , NAJASO's Health Committee Chair, other Panelists including Dr. Robert Clarke (Prenatal & Endocrine Care effects on Newborn Obesity/Cardiovascular effects on Childhood Obesity, Dr. Rudolph Willis, NAJASO's Health Committee Co-Chair, (Chemical & Nutritional effects on Childhood Obesity), Dr. Richard Constable, NAJASO's Board Chairman (Surgical problems regarding Childhood Obesity), Dr. Gary Rhule (Stress Management and Childhood Obesity). Dr. Rhule is a WISC member and author; Rhule, G. (2014) Sailing on Broken Pieces. New York. Morgan Stanley Publishing.
The Education Seminar topic covered "The Future of the Academic Enterprise & the Institutional Transformation Necessary." The Education Chair; Dr. Joseph Whittaker – Prof. Morgan State University; Moderator: Dr. Frank Trocki, ED.D; Panelists; Dr. Benita Bell – NASA Scientist, Dr. Wayne A. Rose. Baltimore & Howard County Community Colleges; Dr. Mortimer H, Neufville – President Coppin State University.
The featured speaker for the afternoon Luncheon on July 18th was former Jamaican Ambassador, the Hon. Dr. Richard L. Bernal, OJ. Dr. Bernal was educated at the University of the West Indies, University of Pennsylvania, the New School for Social Research and the School for Advanced International Studies of John Hopkins. He is a professional economist with over 30 years' experience and presently serves as Consul for Banco Interamericano de Desarrollo, Washington, D.C. Dr. Bernal discussed his newly released book, Bernal, R. L. (2014) Dragon in the Caribbean: China's Global Re-Dimensioning Challenges and Opportunities for the Caribbean. Kingston. Ian Randle. This was an extraordinary talk about China's growing presence in the region and their interest and participation in the development of the Jamaica Logistics Hub and the Global supply chain.
Ambassador Dr. Basil K. Bryan who served as Jamaica's Consul General to New York from April 1998 to September 2007 rounded out NAJASO's afternoon Business Forum discussion with a presentation on his book, Bryan, B. K. (2013) The Jamaicans: Children of God in the Promised Land. Colorado. Outskirts Press.
The moderator was Dr. Relva Buchannan and other presenters were Mr. Devon Harris, Motivational Speaker (Former member of Jamaican Bobsled Team) and Mr. Gary Robinson – Cornerstone Jamaica.
Ambassador Curtiss Ward, Esq. covered the topic of Immigration. The moderator for that segment was Mr. Earl Mitchell – Parliamentarian, NAJASO. Ambassador Ward also did an outstanding job as the Master of Ceremony for the Saturday evening Banquet and Awards Presentation. Entertainment was provided by the Image Band, Danny P International and a performance by Caribbean American Dance Company. It was an evening of fun and excitement.
NAJASO President, Ricardo Nugent discussed the organizations 37 year existence, the challenges that lie ahead, and the work that must continue to help our less fortune brothers and sisters. He challenged the NAJASO member organizations to recommit themselves to the principles and mission of NAJASO. Mr. Nugent articulated the theme: 'Transition with a Vision' and that the organization remains committed to attracting new investments in Jamaica and continuing to provide educational and health support in addition to other NAJASO outreach programs.
Jamaica's Prime Minister, The Most Honorable Portia Simpson- Miller has praised NAJASO for the outstanding work it continues to provide on behalf of Jamaica. "I am particularly pleased at the association's efforts to channel the much needed humanitarian assistance and the promotion of trade and business opportunities that have benefitted Jamaica," she stated. As a point of notation, the Help Jamaica Medical Mission led by NAJASO Chairman, Dr. Richard Constable, Dr. Rudolph Willis, Dr. Charles Anderson and Dr. Robert Clark is spearheading a medical mission to Jamaica September 9 – 21, 2014 to dispense medications and provide physical examinations to many needy patients, free of cost.
US Ambassador Stephen Vasciannie also praised past and current members of NAJASO who have dedicated their time, energy and support to Jamaica over the years. His statement reads, "Your organization should take pride in the fact that through visionary leadership and strong membership support, you will continue to grow from strength to strength."
All have acknowledged the work ahead stemming from the convention theme (Transition with a Vision) which is aimed at galvanizing the organization to move forward with renewed vigor towards the accomplishment of its mission and mandate.